Getting to The Ontario Fishing Lodge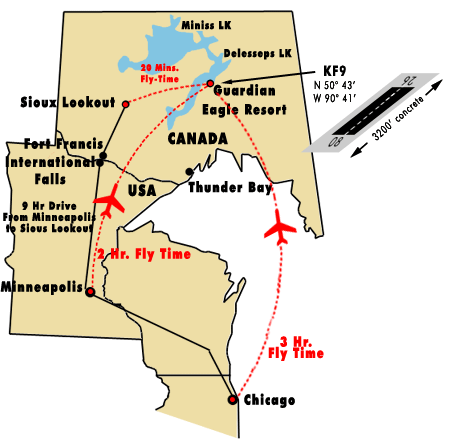 The Fishing Lodge Location
Executive Class Canada Resort & Fishing
Direct Private Air Charter Only 2 Hours from Minneapolis and 3 hours from Chicago.

Imagine leaving a major metropolitan area filled with honking horns, ringing telephones & jammed freeways to arriving in the peace and beauty of the rugged wilderness of Ontario!
There is something to be said about "easy". That's our goal. To make your travel portion easy! Guardian Eagle Resort has the advantage of having first class private Air Charter Services at our fingertips in all our flying regions.

Our # 1 choice is the King Air 200, executive class and comfort all the way. With a plane pickup in Minnesota or Chicago we can get you from home to the Luxury Fishing Lodge in 2-3 hours WITHOUT multiple stops. One customs clearance and next stop Guardian Eagle. It's that simple when you have your own 3200′ concrete runway.

For the shorter trips from Sioux Lookout, ON our charter of choice is SkyCare Skilled pilots for the North, executive class service and a reliable fleet, these folks know how to treat you right.

But not to worry we take care of all the air travel arrangements you just make the call and we will do the rest!
We are thrilled to say we've had many corporate and private groups fly their own aircraft right to our Lodge. Cessna 400 class, King Air class, Malibu and Navajo class all love this runway. For those groups/guests wanting to go this route you'll need to know we are CKF9.

Maximizing your time, that's what we aim to do. After you step off the plane we take care of your luggage and get you settled in, then it's off the Lodge for a delicious meal or right to the Dock house to begin your fishing adventure. Easy like we said.