Guardian Eagle Resort - Testimonials
Here's what a few of our customers have had to say about us.

Terry Piper
Summer 2019 - Sugar Grove, iL.
Clarence, Twyla, Brooke and Casey, Just ahort note to say we had another great trip to Guardian Eagle again this year. Fishing was real good, guides were the best, shore lunches wonderful, Accommodations the best, lodge meals terrific and hosts very attentive and fun to be with. Looking forward to next year. All the best, Terry Piper Sugar Grove , IL.
Arnie Kellen
2019 - Chicago area
Just finished another GREAT fishing trip to Guardian Eagle. My Group's 25th year visiting this beautiful resort. Under new ownership of the Bergen family,the place is once again showing its sparkle. We were fishing 3 hours after take-off from Chicago Executive airport and back to Chicago 1 hour 50 minutes after take-off from Guardian Eagle's strip. Walleyes to 27 inches and enough northerns to satisfy all. Clarence, Twyla, and their two daughters provided the best service possible.
John Malina
Sommer 2019 - Crystal Lake, Il
We have been coming to Guardian since the mid '90's and i can say that the new owners,Clarence and Twyla and their wonderful daughters are doing a terrific job of running the resort. It is hard for me to believe that there were areas that they could improve upon. To anyone that has not been there i believe that if you try it, you will return.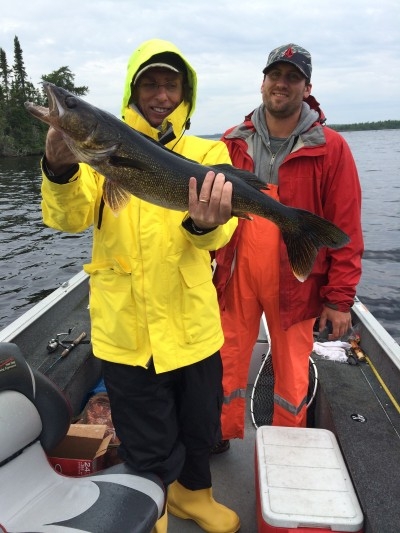 Logan
Twyla: I had a great time staying at Guardian Eagle and fishing this past weekend. BRADY WAS A GREAT GUIDE. IT WAS KIND OF LIKE GOING GOLFING WITH A PROFESSIONAL GOLFER IN A PRO-AM TYPE SITUATION. SHORTLY BEFORE I CAUGHT THIS BIG FISH, HE SUGGESTED A SLIGHT CHANGE IN MY TECHNIQUE TO BETTER HOOK SOME OF THE FISH THAT WERE BITING AND I WAS MISSING. VERY TIMELY!
Thanks again for a great experience.
Regards,
Logan